Create a user with the submitted information
Do you want to automatically create a user for the person that submits a form? Then this is the plugin you are looking for. With "Register User" you can automatically create a user using the data that is submitted.
Features
Automatically create a user after a form is submitted
All the info like user name, password, email, and role are customizable
User meta support, you can also save additional information within the user meta for example if they opt to subscribe to your newsletter or not.
Condition logic support, you can also configure the form to only create the user if a condition is met like for example only if the user opted to create an account.
How it works
1.- Install and activate the plugin
2.- Go to the register user tab and configure the fields that you want to be used to create the user.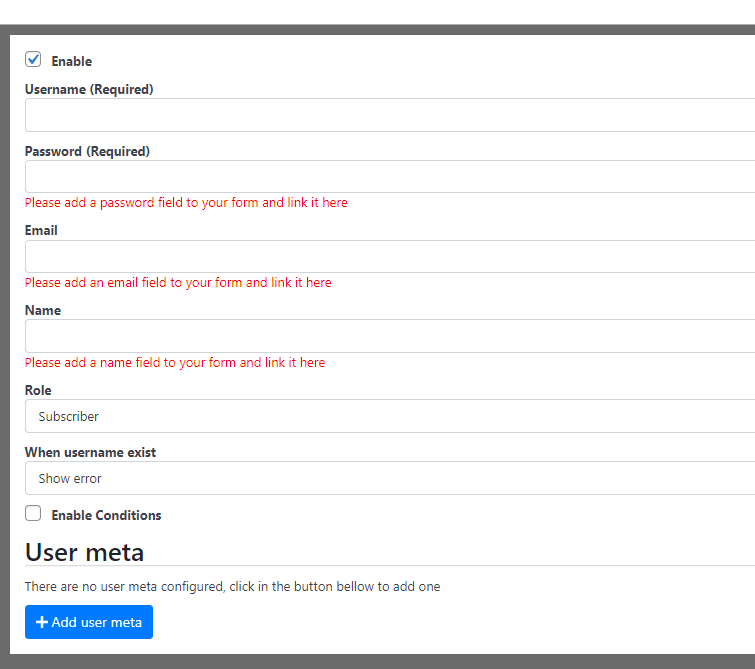 Adding user meta
Additionally, you might want to save additional information, not only the standard data like username and name. To do so you can create a new user meta and link it to a field. For example, the screenshot below will also create metadata called "Phone" and will save the "Phone" field content in there.
It is important to notice though that by default WordPress won't show this metadata in the user dashboard, but if you want to display it you can use plugins like https://wordpress.org/plugins/jsm-show-user-meta/ to display it.

Would you like to get more than one add on?
Check out our bundles and get several add ons at a HUGE discount
View Bundles